NDA News - Latest Updates
Latest From NDA Swindon - Honoured by The Queen


NDA Swindon (Hilditch Auctions) have been awarded the Queen's Awards for Enterprise; a highly prestigious award for outstanding achievements by UK business made annually by Her Majesty The Queen. The awards recognise the highest levels of excellence as demonstrated in the categories of Innovation, International Trade and Sustainable Development. Hilditch scooped the award for International Trade which underlines its position as market leaders in the export and sale of medical equipment. Hilditch overseas sales now account for 80% of company turnover and the judging panel recognised the hard work of the sales and marketing team for the promotion of significant export sales. Mike Hilditch said "We are delighted to have won this award, which is the culmination of many years of hard work. We are particularly grateful to the support of our clients in the NHS and Private Health Care, without which this would not have been possible. "This award does not just recognise our excellent export record but also our commitment to Customer Care and Corporate Social Responsibility.
"The award was officially presented to the Hilditch team by the Lord Lieutenant of Wiltshire at their Auction House in Swindon.Mike and Nicky Hilditch, proprietors of the Hilditch Group, also attended a formal reception at Buckingham Palace hosted by HM The Queen.
Latest From NDA Nottingham - Channel Fives Gadget Show to Feature John Pye & Sons Technology Auctions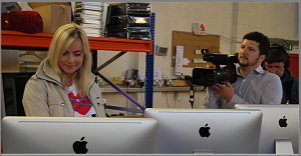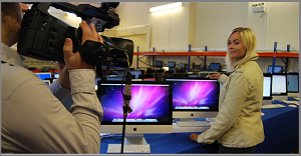 NDA Nottingham (John Pye & Sons Auctioneers) will be hitting UK television screens again after leading technology programme, Channel 5's The Gadget Show, filmed a live auction for their new series starting in August. Following John Pye & Sons features on the BBC's Money Programme and Channel Four News during the Credit Crunch, John Pye & Sons will be highlighted for its technology auctions on Channel 5. The feature will focus on the various ways to purchase high-spec technology at competitive prices.Pitted against her co-presenters, Pollyanna Woodward and her crew attended a live John Pye & Sons auction with £100 burning a hole in her pocket with a challenge to buy the best piece of kit at the best price. Bidding was fierce throughout the auction and Pollyanna eventually successfully bid on a pink Dell Inspiron Netbook with 250GB Hard Drive. You'll be able to see if she won the challenge on Monday August 8th when the John Pye & Sons feature will be aired on The Gadget Show on Channel 5.
Top.
Latest From NDA READING - Hold Auction of Vast Private Collection of Horse Drawn Carriages, Gypsy Caravans & Vintage Vehicles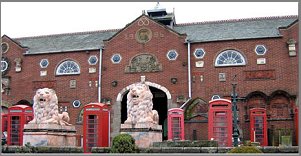 NDA Reading created headlines among UK carriage and traveller circles when they held an auction of one of the UK's largest private collections of horse drawn carriages, gypsy caravans and vintage vehicles. The huge collections of agricultural artefacts belonged to the Estate of the late Les Oakes, of Staffordshire, a very well known reclamations dealer, who spent a lifetime buying from auctions and selling a vast portfolio of artefacts from his Staffordshire farm site. Five hundred lots were prepared for the auction at the Reclamation Entrepreneur's home farm in Cheadle. Amongst them were rare treasures including Romany Caravans, Vintage Hearses, an old fire engine and other memorabilia from the past 100 years. Renowned auction regular Oakes was a passionate collector of vintage vehicles and memorabilia throughout his life and at the time of his death had acquired around 600 horse drawn vehicles, as well as countless riding and carriage accessories and other memorabilia including old telephone boxes, marble lions and even a log flume from American Adventure Park. On the day, the sale attracted over 500 buyers from all over the UK to Hales View Farm.

Auction goer Ewan McInnes, Secretary of the National Farmers' Union, successfully bid on saddles and carriage lamps. He said "It is always interesting when kit like this has been locked away for a long time. It is very difficult to find authentic equipment. I have not seen this sort of thing in a long time. Star attractions in the sale included a Bow Top Gypsy Wagon which went for an impressive £48,000, a Steam Pump Fire Engine which sold for the record price of £27,500 and a traditional Barouche Horse Drawn Carriage which made £20,000. Other artefacts of interest were three red telephone boxes which sold for £580 each, a pair of large white urns sold for £1,900 and an 18th Century stone trough from a country estate sold for £1,400. Top.

Latest From NDA Ireland - Secures Double Business Awards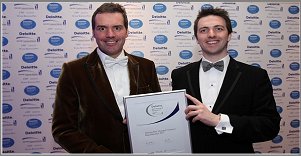 NDA Ireland (Wilsons Auctions Group) has won the prestigious Deloitte Irish Best Managed Companies Award for the 2nd Year in a Row.

The Deloitte Best Managed Companies programme, in association with Irish Life Corporate Business, recognises excellence in Irish-owned and managed companies and highlights Wilsons Auctions business achievements and enhances its reputation as a great place to work.
The judging panel commended Wilsons Auctions for its solid financial performances. Wilsons MD Ian Wilson said: "We are delighted to have won this prestigious award for the 2nd Year running. We have long recognised that strategic goals cannot be successful without the full support of committed employees who enjoy their work.
"This award is an endorsement of that approach." The award promotes and recognises excellence in Irish-owned and managed companies Wilsons Auctions have also won the 2010 Ulster Bank Business Achievers Award for independent family run businesses, with 75 years in business and still going strong. According to Peter Johnston, Group Operations Director, the secret to the ongoing success of Wilsons Auctions has always been customer service: "We are a third generation family business. "Ever since the business conducted its first auction our focus has been on service. The award is for the whole Wilson's team; well done for the continued effort and enthusiasm in all aspects of your roles." Top.